Hi everyone. In this review we will be taking a look at Nature's lab One Daily Multivitamin. I will be reviewing what is this product, its contents, Pros and cons from taking this supplement. So sit back and enjoy this review.
What is One Daily Multivitamin?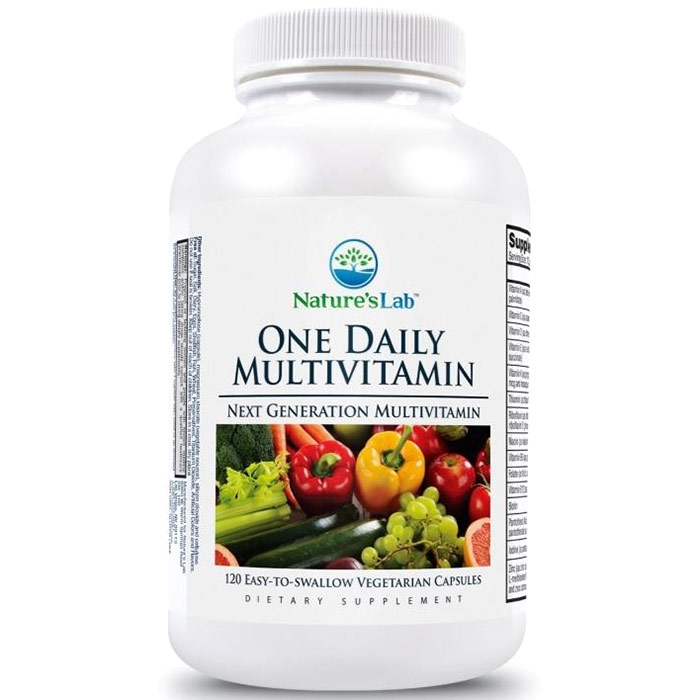 This is a multivitamin containing 21 essential vitamins and minerals. It also includes strong antioxidants like green tea, CoQ10, resveratrol. 19 out of 21 vitamins give you 100 % of the daily nutritional value you need. This product is:
Manufactured in the USA – This product is produced in the USA but some of its contents might be imported from elsewhere.
GMO Free – One daily multivitamin is free from organisms that have been genetic modified and therefor contains only natural ingredients.
Gluten Free – Gluten is excluded in this product.
Lab Tested – This ensures that the product conforms with the regulations of the country of importation and that it meets the requirements of the product specification and quality.
Premium Product – The products price is in the mid or upper range for this category of products.
Supplement contents
Vitamin A – Important for normal vision, reproduction and the immune system
B-Vitamins – Group of vitamins that play an important part in your metabolism among other things.
Vitamin C – Strong antioxidant that has many benefits. Supporting your immune system is one.
Vitamin D – Keeps your bones, muscles and teeth healthy.
Vitamin E – Antioxidant that protects your cells from free radical damage.
Vitamin K – Needed for blood coagulation and gives strength to your bones.
Thiamin – Known as vitamin B1, important for enabling the body to get energy from carbohydrates.
Riboflavin – Vitamin B2 which helps normal cell function and growth. It also has a vital role in energy production and metabolism.
Niacin – Vitamin B3 boosts your brain function and lowers cholesterol among other things.
Folate – Also known as vitamin B9. Its task is to produce red and white blood cells in the bone marrow, creates energy from carbohydrates and also produces DNA and RNA.
Biotin – A B-Vitamin that converts different nutrients into energy. Its also an important supplement to keep your hair, nails and skin healthy.
Pantothenic Acid – Vitamin B5 as it's also called is one of the most vital vitamins for human life. It's essential for producing blood cells and it also creates energy from food.
Iodine – A mineral that is vital to produce thyroid hormones which helps to control the body's metabolism and other essential body functions.
Zinc – Supports your immune system and metabolism. Zinc is good for healing wounds and is also important for your smell and taste senses.
Selenium – An important mineral to support fertility and cognitive function. It might also help against cardiovascular diseases and thyroid problems.
Manganese – Activates different enzymes in your metabolism and helps to digest amino acids. It also has an important role in various chemical processes in the body.
Chromium – Helps to lower blood sugar levels and supports your body's response to insulin.
Molybdenum – Vital mineral that prevents toxins from increasing in your body and helps the breaking down process of harmful sulfites.
Alpha Lipoic Acid – Antioxidant that might help memory, heart health, skin-aging and weight loss.
Coenzyme Q10 – Improves blood sugar regulation and heart health. It can help in the treatment and prevention of cancer and can reduce the amount of migraine attacks. It also helps to decrease the oxidative harm that can lead to muscle fatigue, lung and brain diseases and skin damage.
Green tea Extract – Helps with the regulation of blood sugar levels and can aid in weight loss. It keeps your liver and skin healthy, decreases blood fat levels and improves brain health.
Quercetin – Boosts immune system and can aid in helping with inflammation and allergies.
Turmeric Extract – Good pain killer and aids against inflammation, hay fever, high cholesterol and depression.
Grape Seed Extract – Antioxidant that aids against poor blood circulation and high cholesterol. Can also reduce swelling.
Red Wine Extract – Antioxidant that helps to protect blood vessels in your heart.
Resveratrol – Protects brain function and lowers blood pressure.
Lutein – Helps to keep your eyes healthy.
Zeaxanthin – Maintains healthy cells in your eyes.
Black Pepper Extract – Good for weight management and absorbs different nutrients in your body.
Fermented Superfood – Gives you a better digestion and creates a more healthy microbiome in your stomach.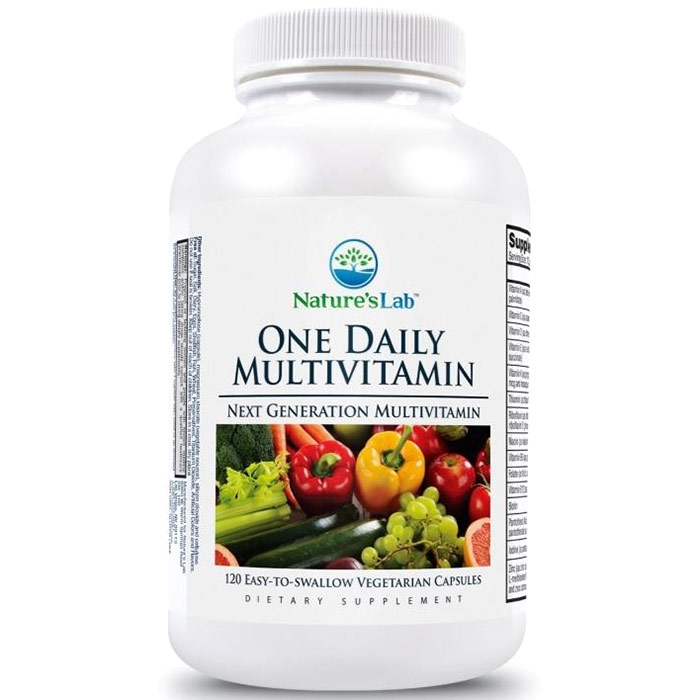 As you can see from the above table of contents, one daily multivitamins has a lot of good vitamins that you need for your well-being, a good combination of vitamins and minerals to keep you going in a positive way.
Health Benefits
Pros And Cons


Conclusion

Nature's Lab one daily multivitamin is a safe and natural product of the highest quality. It has a number of health benefits and contains a lot of necessary nutrients that can increase your well-being. I highly recommend this multivitamin as it's one of the best multivitamins on the market. The only negative thing about this product is that it doesn't contain magnesium but apart from that it's really a great product.
Get Your One Daily Multivitamin Here:
One Daily Multivitamin, 120 Vegetarian Capsules, Nature's Lab
I hope you enjoyed this review and if you have any questions or comments please leave them below.
Take Care!
Lars